Drum lessons teach one of the most important and
universal elements of music:
RHYTHM
Rhythm is a Fundamental Musical Skill
Our drums lessons are taught on a traditional drum kit, although hand drums and smaller drums will also be used during the lesson. Students will learn how to accompany songs and bands and keep beats in multiple styles of music. All students will also learn how to read rhythms written in traditional notation. This will prove to be a very useful skill should they ever want to play with a group or even transition to another instrument.
Great first instrument for children of ANY age
Drum lessons are taught on a real drum set. At home you can practice on an electric drum set, hand drums, or even a practice drum kit if you don't have access to a drum set or if playing one where you live is not an option. Students may begin taking drum lessons as young as 5 years old. (4 In some cases) Since rhythm is such an important part of music, drum lessons make a great choice if you want to take general music lessons but can't decide which instrument yet. Playing the drums lays a great foundation for learning the basic music principles.
Reading Real Music, Learning Real Songs, and Loving it!
Students will learn how to read rhythmic notation, keep beats as well as the proper technique for playing the drums. We like to incorporate the student's own interests by teaching them to play and keep the beat to songs or samples of songs from bands and artists they like.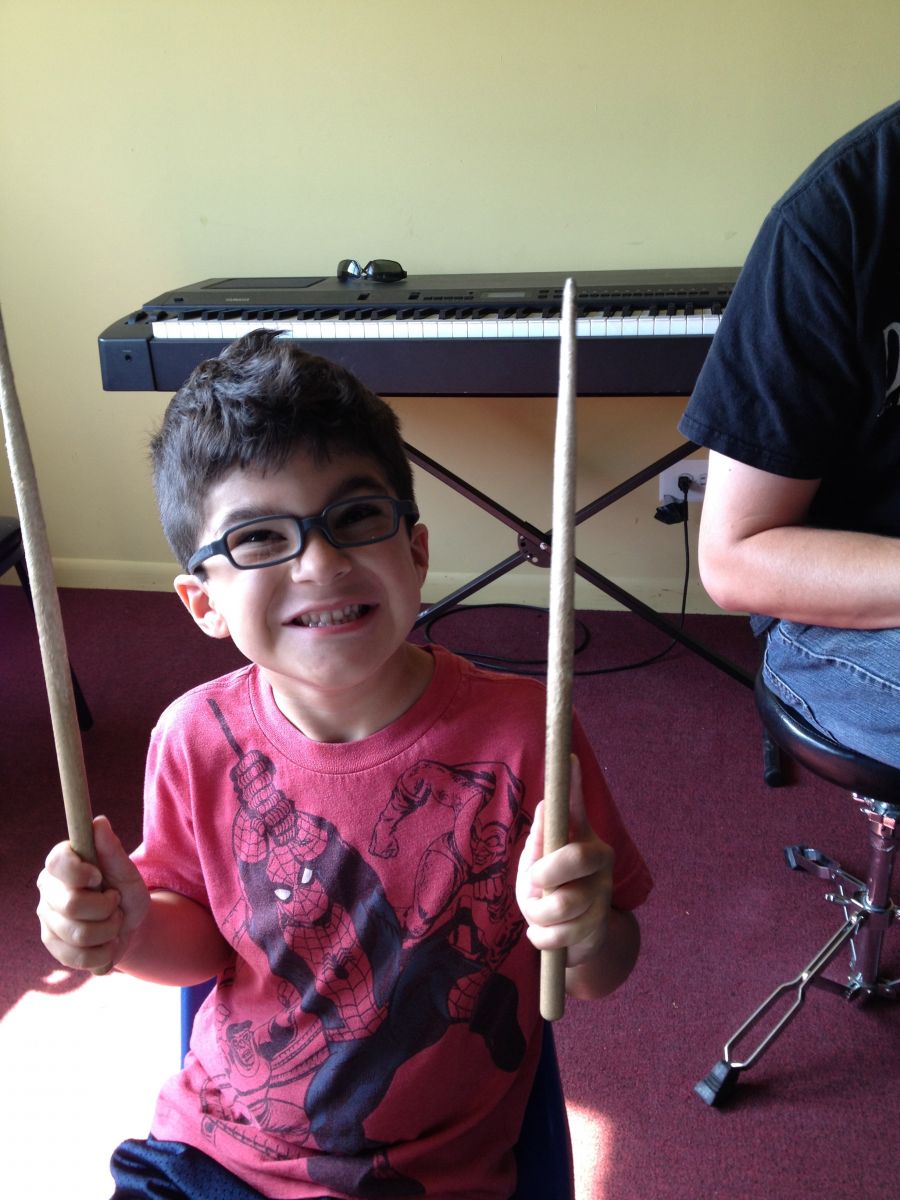 Younger than 5 years old?
If your student is between the ages 3-5, we also offer a Pre-School Rhythm Workshop. This Workshop offers students the opportunity to be exposed to the joys of rhythm through clapping, stomping, dance, and percussion instruments while in a class room setting with other children their age.
Scheduling:
• Drum lessons are organized in 1/2-hr, 3/4-hr, and 1-hr increments at a day/time to be arranged by you and the instructor.
• We currently have drum lesson openings on Mondays, Tuesdays and Saturdays.
• Call now or Contact us to get started.

Contact Us Today to Begin Learning!!
Famous drummers-turned-singers include: Karen Carpenter, Don Henley, and Phil Collins to name a few.
'Tap your foot' - Count Bassie on the meaning of music
I always told the musicians in my band to play with what they know and then to play above that.
Because anything can happen, and that's where great art and music happens.
– Miles Davis

Register NOW!!! to get Started.
Frequently Asked Questions
When can my lessons begin?
ANYTIME

How do I schedule lessons?
Call or email us to find a time that will work with your schedule.

At what age can my child or I begin lessons?
5 years old is a good general starting point. (4 in some cases) Any age above that is fair game! We have many adult students and children.
Smaller children will be learning on smaller hand drums, like the bongos and congas. If your student is between the ages 3-5 you might want to consider the Pre School Rhythm Workshop.
How much should students practice?
It is very important to have daily practice, so that the techniques practiced are retained. Regularity is more valuable than duration, especially at the beginning of taking lessons. Practice time can range based on the level of the student from 15 minutes to 3 hours a day. Our teachers will work with students to come up with and recommend a practice schedule for students.

Do I need to own an actual drum set to take lessons?
Not necessarily. It would be strongly advised that you have a set to practice on but there are alternatives to having an actual drum set. There are affordable electric drum kits available. Students can also find practice drum kits to play at home which are not very loud or expensive.

Should I bring my drums to my lessons?
No silly - We have drums here! You should have something to play on at home though.