Stop living in the vortex of frustration and start learning the right way!!

Schedule your first 30 minute trial lesson today
Private Guitar Lessons are The Most Efficient Way to Learn...
Private Lessons make learning the guitar fun without the frustration of books and self-help tutorials. Surprisingly, with all the availability of web-based tutorials and self-teaching tools, guitar lessons have remained very popular in this 'Information Age'. Private music lessons are one of the last one-on-one niches.
Taking private guitar lessons provides a huge advantage over group lessons or self-help tutorials off the internet. Teachers can tailor lesson plans around your learning style while teaching songs that you will enjoy learning and practicing at home. Guitar teachers will have the advantage of knowing which songs to choose that are at your skill level. Scheduling is also more flexible than group lesssons because we can accomodate scheduling to adjust to your needs.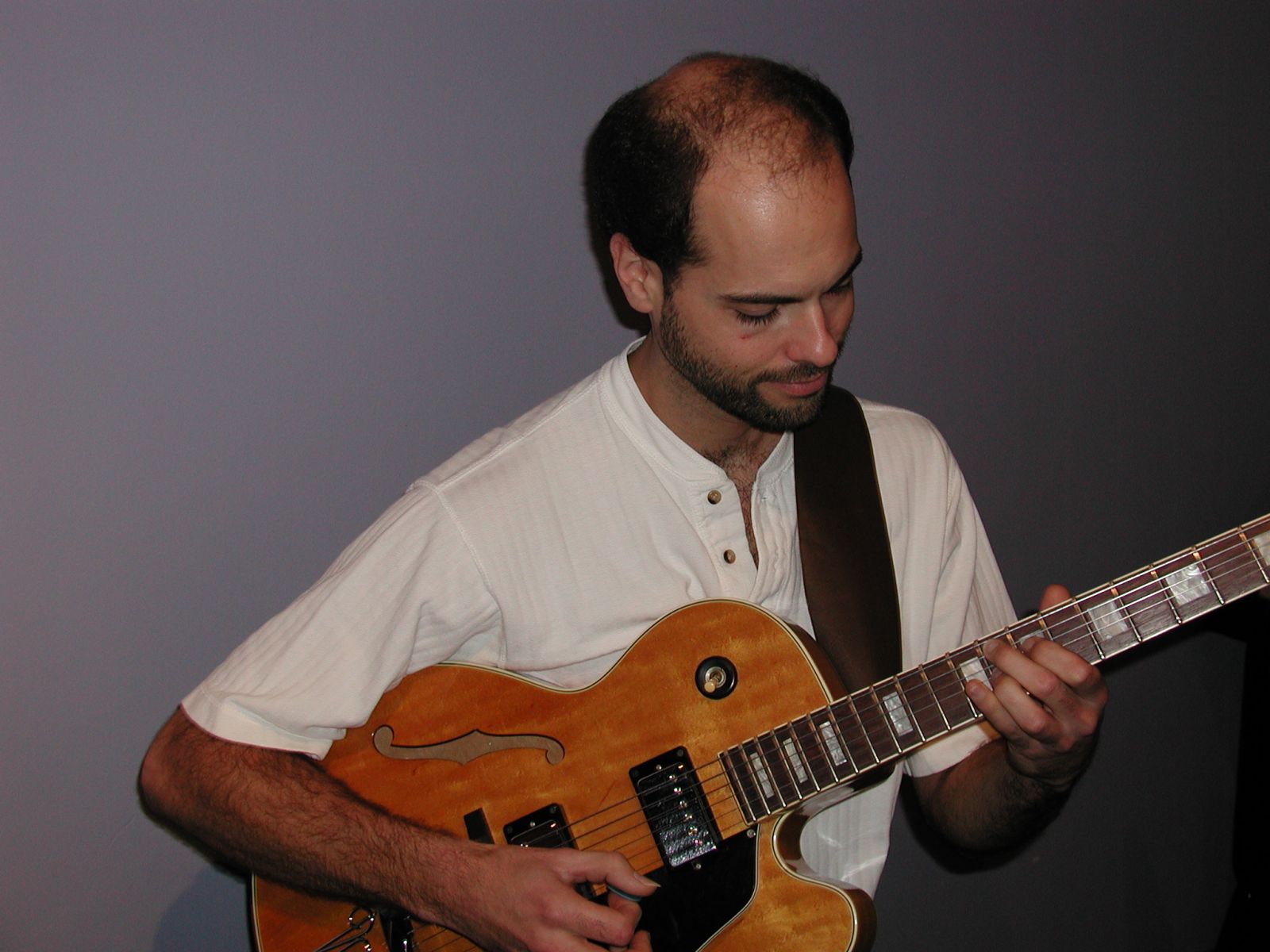 Learn the Fundamentals of Music in the Style You Want to Play
Lessons are customized to fit your learning style and musical interests but will always include the component of teaching the fundamentals. It is often stereotyped that guitarists lack basic musicianship skills. For this reason our guitar lessons are typically taught using a traditional method using note reading.
We have found that by teaching these fundamentals around the style of music you enjoy most, you are more likely to get the most out of your lessons which means you'll practice, and keep coming back!
For more advanced students, guitar lessons are a great forum for learning song-writing, music theory, and harmony - given that the guitar functions melodically and harmonically.
So Many Styles to Choose From!!!
In the modern 21st-century there are so many styles that can be learned on the guitar making it stylistically one of the most diverse instruments available. Some of the styles that can be learned in guitar lessons include: jazz, classical, blues, folk, rock, bluegrass, and country - to name a few. Students may begin learning on electric or acoustic guitar. For beginners, we recommend starting on the acoustic.
The portability and accessibility of the instrument made it an important instrument in the early roots of jazz and blues long before the great Les Paul invented the first electric guitar. The invention of the electric guitar solidified it

'

s world wide popularity by being one of the most important instruments in the development of rock 'n' roll. This didn't detract from the growth in popularity of the acoustic and classical guitar though. On the contrary, over the past sixty years the popularity of the classical and acoustic guitar has grown immensely. You needn't look further then Bob Dylan and Andres Segovia to demonstrate this point.
To Read Music or Not to Read Music??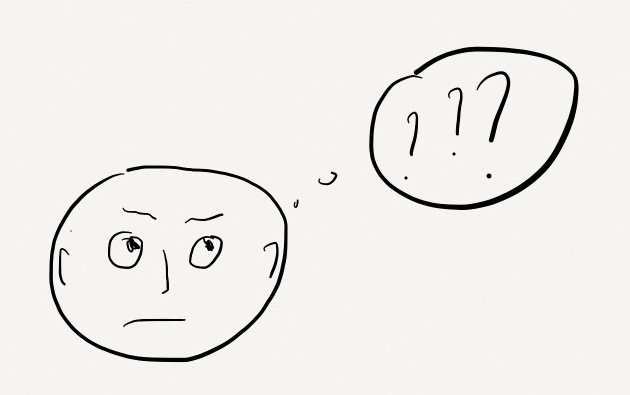 Sadly, guitarists are stereotypically lacking fundamental musicianship skills that other instrumentalists seem to aquire in the first
several years of study. This is attributable to the guitar being one instrument that is most often self-taught and self-taught students most often don't learn the proper fundamentals which are acquired when learning to read music.
Learning to properly read and play guitar music might make guitar one of the most difficult instruments to learn to because:
• On string instruments, one given note (middle C for example - C4) on the staff is located in three or four places on the instrument and standard notation doesn't tell you which one to play unless the music is fingered or edited for such.
• Guitarists are often not reading the melody line because their role is more often harmonic. The manner in which those notated harmonic parts are written and how they are to be played is open to great interpretation, and it assumes that they understand a number of things.
Reading actual music has many advantages aside from teaching the basic music fundamentals that every musician should know. For more advanced students, guitar lessons are a great forum for learning song-writing and deeper levels of music theory.
Given these advantages that reading music offers we believe that reading music the right way is important. Our lessons are taught using a traditional method that incorporates note reading in some capacity because we feel it is important for our students to be equipped with those basic fundamentals.
Private Guitar Lessons..... How, When, and Where?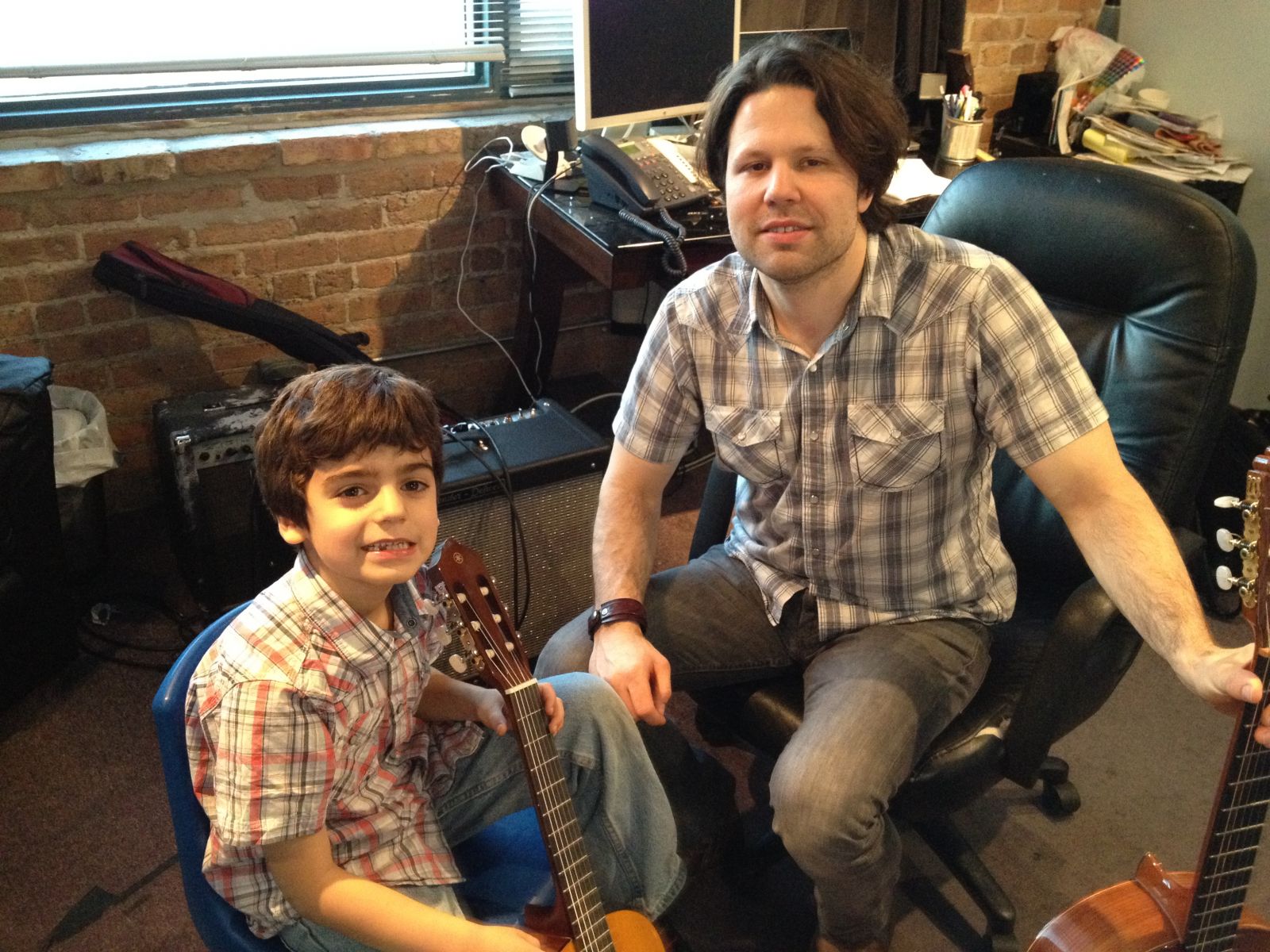 • Guitar Lessons are organized on a weekly basis for either 1/2-hr, 3/4-hr, or 1-hr duration in our location at 900 N Franklin.

• Students may begin learning the guitar at the age of 5. Students under 12 are advised to get a scaled-size guitar.
• If you would like to register for one trial Lesson, you register and schedule it HERE.
• Guitar Lessons may begin at any time but most will find more convenient times to choose from at the beginning of our sessions. Guitar Lessons ARE available during the day, early evening, and on Saturdays.

• To get started, CALL 312 416-0622 or email us to find a time slot in our schedule that is convenient for you.

Frequently Asked Questions


When can my guitar lessons begin?


ANYTIME
Do you offer Trial Lessons?
Yes. We do require the pre-payment of the non-refundable registartion fee ($35) in order to book a trial lesson. CLICK HERE to register for a trial lesson.



Do I need to have my own guitar?


Yes. In order to get the most out of your lessons, you should have a guitar at home you can practice with. If you are a beginner, you should bring your guitar to your lessons so it can be properly tuned each week.



Where can I get a guitar?


You can shop online or go to local stores such as Guitar Center or Sam Ash. We recommend spending $150-$400 for an instrument. We also recommend purchasing used-guitars when possible. We would be happy to consult and advise you on a guitar more specifically if you are considering purchasing. Give us a call at 312 416-0622.



Is it better to start on the acoustic or the electric?


This is the million-dollar question and the number one question students have when considering guitar lessons. For children under the age of 12, the answer is YES(!), it is better to start on the acoustic. For ages 12 and up, it is recommended to also begin on the acoustic but it is not as imperative.



Do I need to learn to read the actual notes?


All children will learn traditional note reading. Teenagers and adults will learn a combination of note-reading, chord chart reading, and guitar tablature. To clarify, most guitar music is actually played in chords with the exception of classical and certain types of folk music. Learning chords is a difficult place to begin lessons because most individuals will find the fingers aren't ready to just jump into chords. Learning note reading is a great way to get the fingers to develop strength and coordination, however there are other ways of learning note reading like guitar tablature. This is why we teach a combination of methods because what works for one student, will not always work for another. For us, it is important to really understand the needs and wants of our students and how to teach them accurately and efficiently.

What is guitar tablature?
This is a system of notation which pre-dates modern musical notation that is solely unique to the guitar. In modern day guitar learning, guitar tab is often seen all over the Internet, which may or may not be a good thing depending on who put it there. It is good that there are lots of free tablatures on the internet but unfortunately they are often incorrect, so be careful what you use! The good thing is that it is easy to learn. The only con is that it doesn't communicate the rhythm, which is a fundamental element of music.
Did you know that JS Bach wrote in tablature? That's right. Bach obviously knew standard notation, but he also wrote for the lute (the modern day equivilant to the guitar) in tablature. His tablature also contained rhythm unlike modern tablature used today.
How much should students practice?
It is very important to have daily practice so that the techniques learned in a lesson are retained. Regularity is more valuable than duration, especially at the beginning of taking lessons. Practice time can range based on the level of the student from 15 minutes to 3 hours a day. Our teachers will work with students to come up with and recommend a practice schedule for students.