Harp Lessons- Where to get Started
Have you you always wanted to try the harp but thought "I dont even know where to start"?
How do I get one?

Aren't they really expensive?
Well, our answer to that is: it is said that harp is one of the easiest instruments to begin playing!
There are many options for acquiring a harp and we will help you choose the right option for you. As a beginner, starting on lever harp is the most common and lever harps range in size from a tiny lap harp to a full size. Renting or buying are both options to consider depending on how serious the student is. Call us to get more information and help on getting a harp.
In terms of price of instrument if you think about the most expensive violin available for sale, it can be upwards of a million. The most expensive harp you can buy? Approximately $180,000. So, yes they are a bit of an investment, but no more than a decent string instrument would be!
We have students of all ages and sizes so dont be afraid to try something new!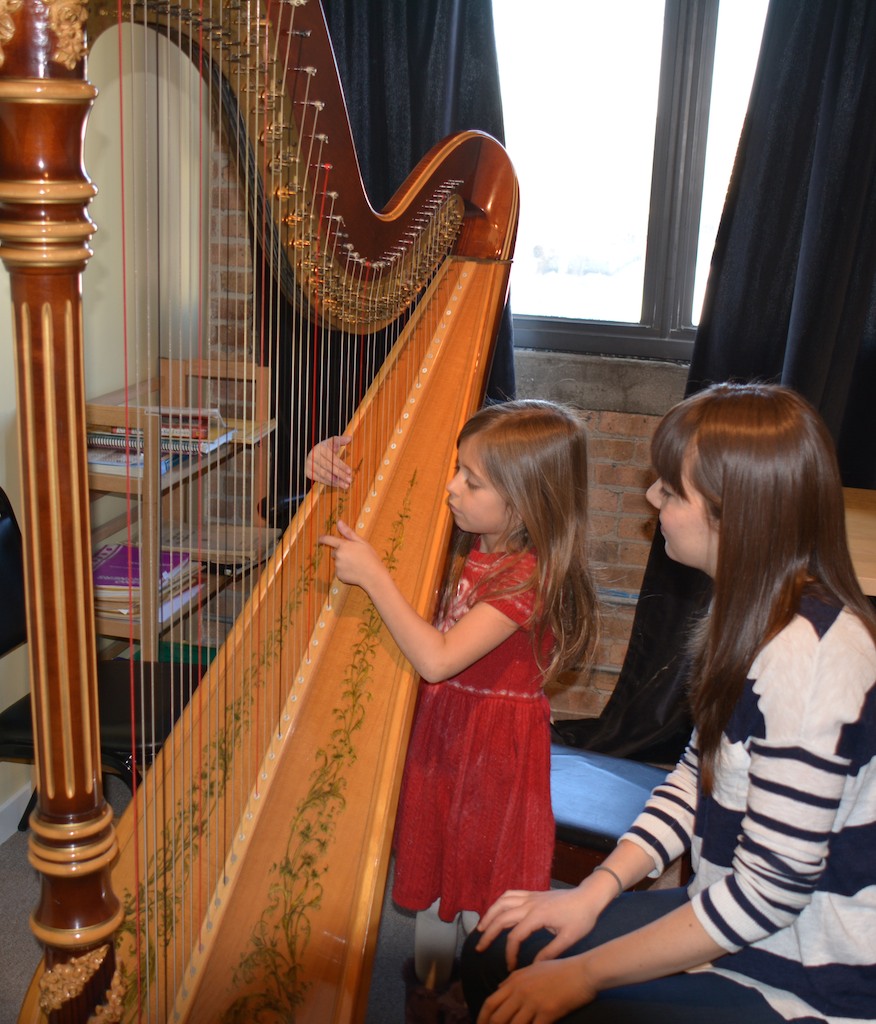 Who Takes Harp lessons
Beginning Students- We offer harp lessons to students as young as five years of age. Adults can also begin learning at any age. All lessons and training will encompass traditional note reading, technique and musicianship that would be given on other instruments such as the piano.
Advanced and Professional Harp Students- We also offer professional instruction for students who need help with performance preparation, competitions, recording, and preparation for professional auditions.
How Lessons Work
We offer private harp instruction where students meet individually with the teacher once per week for 4o or 60 minutes. Students don't always need to bring their own harp to the lesson but should have a harp at home that they can practice on.
Students will learn to read music, rhythm, fundamental technique and musicianship.
Pedal Harp
Pedal harps are generally larger in size and used in Orchestral settings. They are called pedal harps because they have pedals at the base of the harp that connects to a mechanism that creates accidentals on each string (ie: flat, natural and sharp). Because of their size, they tend to have a broader range of sound and style capabilities.
Irish, Celtic or Lever Harps
Lever harps (also known as Celtic Harps) are generally a bit smaller in size but the main difference is that lever harps have levers at the top of each string which you can push up or down to change the accidental of the string. (ie: flat to natural, or natural to sharp) Lever harps are used a lot in Celtic and folk music and the size and sound tends to lend it to a softer, more subtle playing.
Performance Opportunities
All students will have performance opportunities in all of our school rectials. Advanced students may also have other ensemble opprtunites with other insturmentalists or harpists.
Therapeutic Application of the Harp
For centuries the harp has been a symbol of healing and comfort but something that many people may not know is that the harp is used more than any other instrument in music therapy. There are many therapeutic applications that the harp serves with its deep resonsance which is believed to lend itself to healing and calming.
!! Did you know?
Harp is one of the Oldest known instruments. The harp in its simplest form dates back to ancient Egypt and Mesopotamia. The harp in its most modern form, the double action harp was created in 1811.

Frequently Asked Questions

When can my harp lessons begin?
ANYTIME
How much do Harp Lessons cost?
We offer harp lessons in 40 minute and 60 minute durations. Students may register for sets of 16, 8 or 4 weeks.
1Hr lessons the rates for 16, 8, and 4 weeks respectively are: $1132, $649, and $338
40-Minute lessons lessons the rates for 16, 8, and 4 weeks respectively are: $825, $432, $225

How do I schedule my lessons?
Our harp teacher is here throughout the week. Call, email, or fill out our contact form in order to get process started and to find out availability.

What age can I begin Harp lessons?
This really depends on the size of the hands rather than the age of the student, but generally speaking harp lessons can begin as young at 5 years old! Students with smaller hands should generally start in a smaller lever harp, and will eventually graduate to a larger instrument.

Where can I rent or buy and instrument?
Fortunately for us, there are 2 major harp factories in Chicago! Lyon and Healy, and Venus harps. The Lyon and Healy factory has a great rent to own program, but otherwise there are many private renters. Please contact us to find out more about private harp rentals.

What styles of music will I be learning?
If you are a beginner it will be mostly classical. As you progress, we can move to different genres, but the fundamentals of music are most important when beginning a new instrument. New Students will learn the basics of music by learning to read notes, rhythm and how to actually play the harp!

Will there be opportunities to perform?
Yes! We have recitals quite frequently. Performances give students the opportunity to practice that final step of the music learning continuum by exercising the presentation of their skills in a public forum.
How much should students practice?
It is very important to have daily practice, so that the techniques practiced are retained. Regularity is more valuable than duration, especially at the beginning of taking lessons. Practice time can range based on the level of the student from 15 minutes to 3 hours a day. Our teacher will work with students to come up with and recommend a practice schedule for students.