The violin is one of the most traditional instruments and one that is played equally as a solo instrument or in ensembles. There are so many beautiful repertoire pieces that one can learn and play on the violin.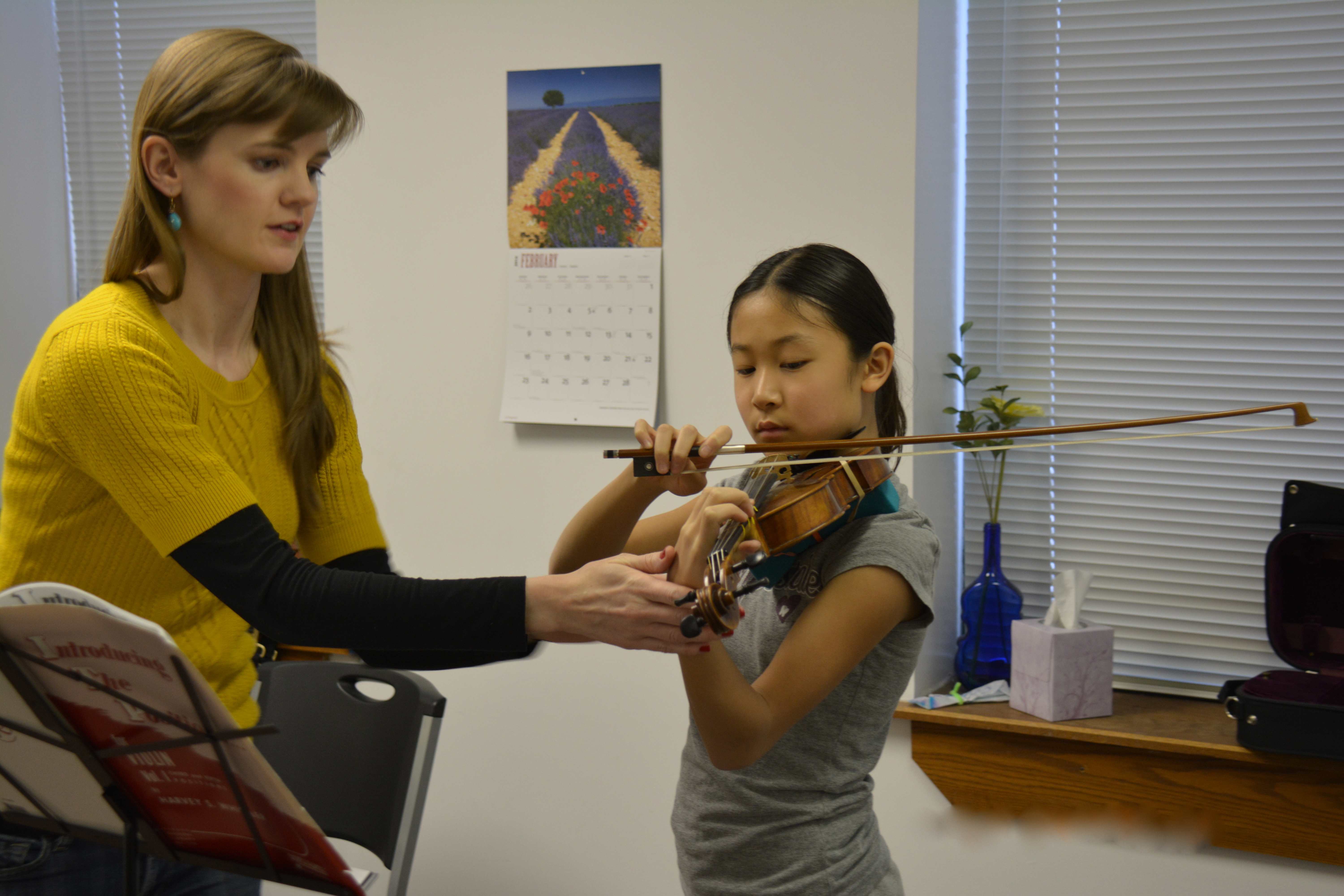 Method: Traditional and Suzuki
We offer BOTH Suzuki and Traditional violin lessons.
Violin lessons taught using a Traditional method refer to students learning to read music. Whereas the Suzuki Method students learn by rote or by ear. This is popular method of learnign the violin particularly in younger children.
For younger students at 3-6 years old, we Suzuki registered teachers. For older beginning students, our teachers will use certain aspects of the Suzuki method but we will incorporate music and note reading as early as possible.
Private Lessons: Scheduling
Private violin lessons give teachers the flexibility to adapt to each student's learning needs by creating a customized curriculum in order to maximize their learning potential. Violin Lessons at the Chicago School of Music are taught using a combination traditional method where students learn to read music while also developing important ear training skills.
Violin lessons are scheduled on an individual basis and the lessons are 1/2-hr, 3/4-hr, or 1-hr in length depending on the experience and commitment level of the student. For the beginning violin student, we recommend 1/2-hr lessons. Violin lessons may begin at any point during the session. For a schedule of times/days please email or call us.
Performance Opportunities
All students will have the opportunity and are encouraged to perform in recitals, which are held in the beautiful atrium at our location. Performances give students at any age the opportunity to showcase their talents in a positive forum with other student musicians.
A Great First Instrument or for any age
The same reason that makes violin challenging is the reason that is makes it a great first instrument to learn: The intonation on the violin is not tempered unlike the piano for example. The location of the finger on the string determines the tuning for that note. For this reason it is commonly believed that violin students develop better natural ear training skills than those learning other instruments. This is a skill that would naturally transfer to other instruments or to singing.

OR Click Here to Contact us to get answer to questions.
Frequently Asked Questions

When can my violin lessons begin?
ANYTIME
Am I too old to start learning the violin?
It's never too late to start taking lessons!! The earliest that students generally begin violin lessons is age 4. There is no limit on how old! We have many stuents who play at all different levels.
How are lessons Scheduled?
Violin lessons are scheduled on an individual basis based on the teacher's schedule and the availability of the student. Since those schedules are always changing please call or email the school to reserve a time slot or to learn about our availability.

How much do lessons cost?
Violin lessons at the Chicago School of Music cost the same as all other lessons. See our lesson registration page for more information on prices and the registration process.

How long should my violin lesson be?
The length of the lessons will depend on the experience and the commitment level of the student. For most beginning students we recommend 1/2 hr lessons.

Am I too old to start learning violin?
It's never too late to start taking lessons! The earliest that students generally begin violin lessons is age 4. There is no limit on how old! We have many adult students who play at all different levels.

How do I buy a violin?
There are many violin rental shops in Chicago, all with a wide range of instruments and they will determine the correct violin size for the student. There are also many dealers who are looking to sell instruments. These businesses generally service older and more experienced players. Given the cost of the instrument, we generally recommend renting your first violin.

What size violin should I rent?
The size of the violin depends on arm length. Children grow at different rates but, for example, a 7 year old usually needs a half size violin and adults need a full size. There are several other sizes as well, to fit any sized child. Wherever you go you will be sized to find what is most appropriate.

How much should students practice?
It is very important to have daily practice, so that the techniques practiced are retained. Regularity is more valuable than duration, especially at the beginning of taking lessons. Practice time can range based on the level of the student from 15 minutes to 3 hours a day. Our teachers will work with students to come up with and recommend a practice schedule for students.

Do the parents sit in on lessons?
If parents are concerned about their child's behavior, or if they want to be more involved in their child's practice routine they are welcome to sit in on the lesson. However, it is not in any way a requirement. It really depends on each child.

Do you use the Suzuki method?
Our teachers use the Suzuki books as a foundation, but add technique and sight-reading exercises for a more well-rounded approach.

What are the differences between Suzuki and Traditional?
Suzuki primarily uses ear-training to learn a series of set repertoire. Parents are also important contributors involved in the lessons and practicing. Traditional teaching is much more technique based, and the student begins reading music at an earlier stage.