The voice is the one instrument that everyone has and yet so many don't know how to properly use!

Book a Thirty Minute Trial Lesson Today
Natural Breathing = HEATHY TECHNIQUE
There cannot be enough said about the importance of singing with proper vocal technique. Our vocal instructors will teach you the proper technique of singing and how to use your singing and speaking voice in a healthy and natural way. Voice lessons will teach you the proper breath support needed to optimize vocal potential in a way that will not damage your vocal folds. There are so many singers who try to affect their voice in order to mimic other singers and performers. This often causes serious damage to vocal chords particularly when the singer they were trying to copy wasn't singing correctly to begin with. We have several things that you will find make our voice lessons unique.
......SEVERAL THINGS THAT MAKE OUR VOICE LESSONS UNIQUE:
We have a lot of great voice teachers to choose from!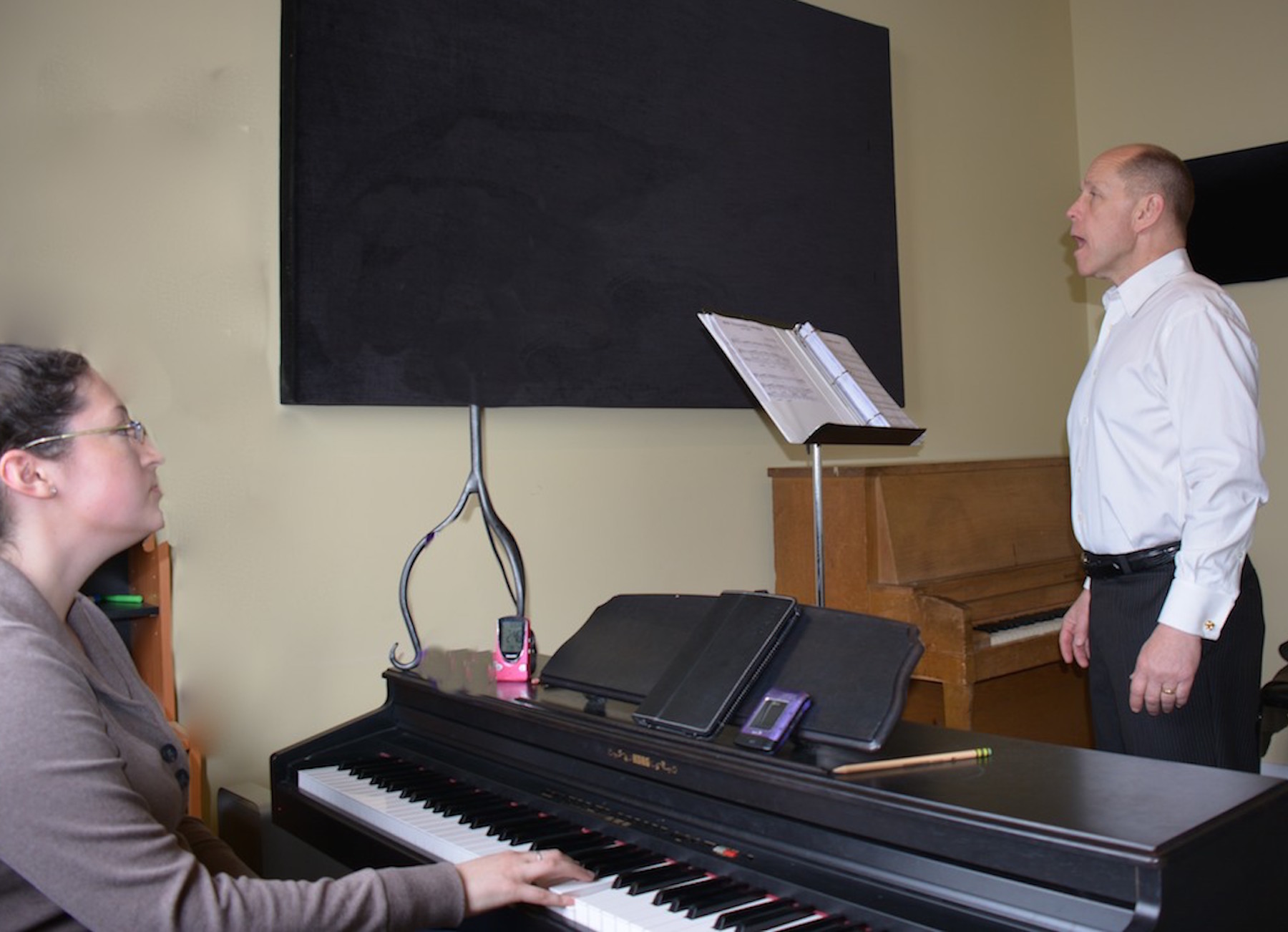 Currently we have five voice teachrs on staff! The gamut of most msucial styles is covered quite well so that we can offer a teacher who is best suited to your msuical style and taste. The basic techniques of proepr singing are universal and all of our teachers are great at teaching beginners. Advanced student who have developed a solid technique may want to work with a teacher on a particular musical style, msuciality, expression, and perforamance presence. It is great to have the option to work with several teachers.
Performances Opportunities!!
We don't want you to just sing in the shower with your newly-trained voice. All of our voice students have many options to perform in recitals and performances that we have at the school throughout the year. Some of these performances happen right in the atrium in our own building. Students will get to perform with other students in their age group and skill level. Performances give students the opportunity to practice that final step of the music-learning curriculum by exercising the presentation of their skills in a public forum. The excitement and nerves of public performance can often derail good technique if it hasn't been properly learned and reinforced in the first place.
Building Confidence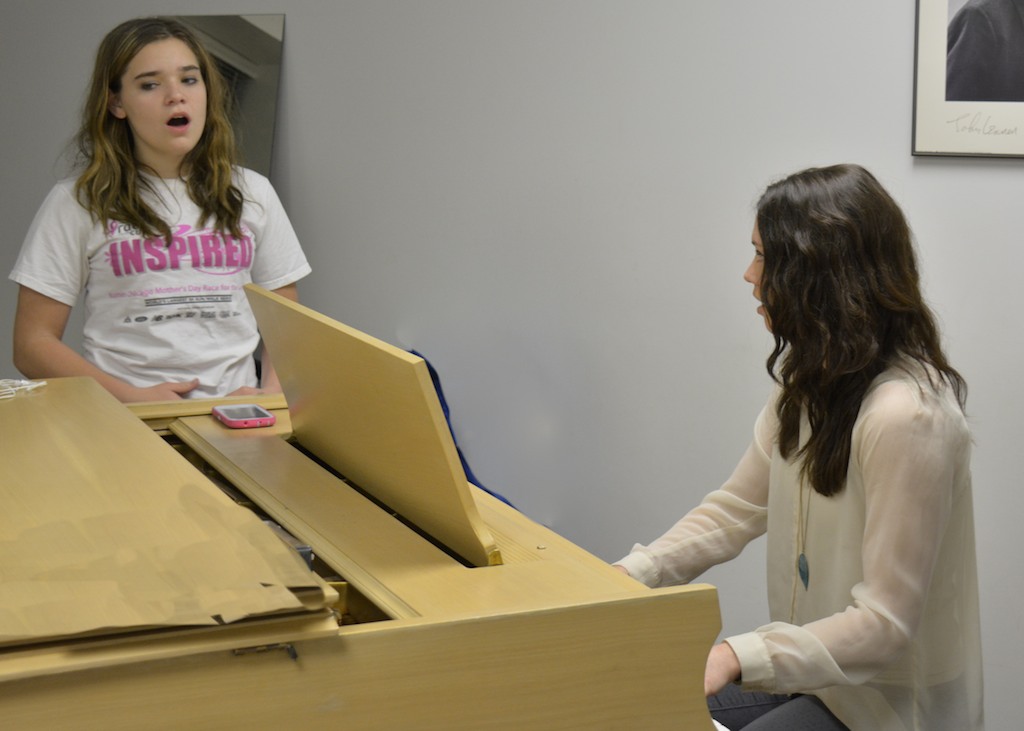 There is not a more powerful tool in building confidence than overcoming the fear of public performance and public speaking. Vocal lessons teach students to control and train their body to relax while performing. Anxiety and performance-induced stress often translates into bad vocal performances. Many singers find themselves great singers in smaller, informal settings - in the recording studio or even the shower - and often find it challenging or impossible to reproduce the same quality performance in front of a larger audience. Our teachers will teach you how to overcome this fear and to release your inner confidence and full musical potential.
Professional Training- NOT just for Beginners!
We offer professional training in many different genres. We have helped many students prepare for their auditions for performances, bands, and shows. We also have many working professionals who seek out our vocal instruction for help with working on projecting their speaking voice when being used in a public speaking forum. Have you heard about football players taking ballet lessons? It is kind of like that but not as far removed. We also offer professional vocal workshops throughout the year, providing more opportunities to sing and speak in larger groups.
Voice & Piano Lessons - - - Together
We also offer the option for students to take piano lessons in addition to their voice lessons. Adults will find this useful because basic piano skills will enable them to accompany themselves while playing as well as with music theory and songwriting. Younger students will also find the piano lesson addition to be very valuable. Advanced vocal technique can't fully be addressed and taught unless the voice has matured so the technical portion of the lesson in younger children is limited. By learning to play an instrument simultaneously students get the opportunity to development musicianship and musical understanding in tandem with their vocal training. Besides, all of the modern observations about the benefits of learning music have been observed on those who were playing an instrument and reading notes....and who wouldn't want that for their child?
Register Online Now

or Contact Us today to get started!!!

Frequently Asked Questions

When can my voice lessons begin?
ANYTIME

How does scheduling work?
We have voice teachers here Monday through Saturday. All lessons are scheduled individually on those days. Call or email us with to find out immediate availability. You can also schedule online by clicking HERE.
What is the Tuition and Costs?
There is a one-time non-refundable registration fee of $35 ($25 if you 'Like Us' on Facebook). Lesson packages are available in 1/2hr, 3/4hr and 1-hr increments in sets of 4, 8, and 16 weeks. You can read all of our rates on our tuition page HERE.
What if I am tone deaf or I have never had voice lessons or even sung before?
Anyone can learn to sing anytime. This is the one instrument we all have and although every voice is different, everyone can learn to use his or her own voice in their own unique way.

Do you offer professional vocal training as well?
Yes. We have students go on to gain acceptance to major collegiate music programs, professional musical shows, television roles, and popular bands.

Do I get to perform and must I participate in the performance opportunities?
We offer many opportunities for students to perform during the course of the year. Students have the option of performing but are not obligated to do so.

How do I choose a teacher?
If you have never taken lessons before, then we advise letting us choose one for you. If you have experience singing and have more specific stylistic areas you want to pursue further, then we will guide you to the best teacher we feel will best meet your goals.
You can read about our teachers by clicking HERE.
Do you offer Trial Lessons?
Yes! You do have the option to have a trial lesson with a teacher before committing to a longer term set of lessons (4-,8-,or 16-weeks). We do require the pre-payment of the one-time non-refundable registration fee ($35) be made in order to book the appointment. To register for a trial lesson, click HERE.
How much should students practice?
It is very important to have daily practice so that the techniques learned in lessons are retained. Regularity is more valuable than duration, especially at the beginning of taking lessons. Practice time can range based on the level of the student from 15 minutes to 3 hours a day. Our teachers will work with students to come up and recommend a practice schedule for students.